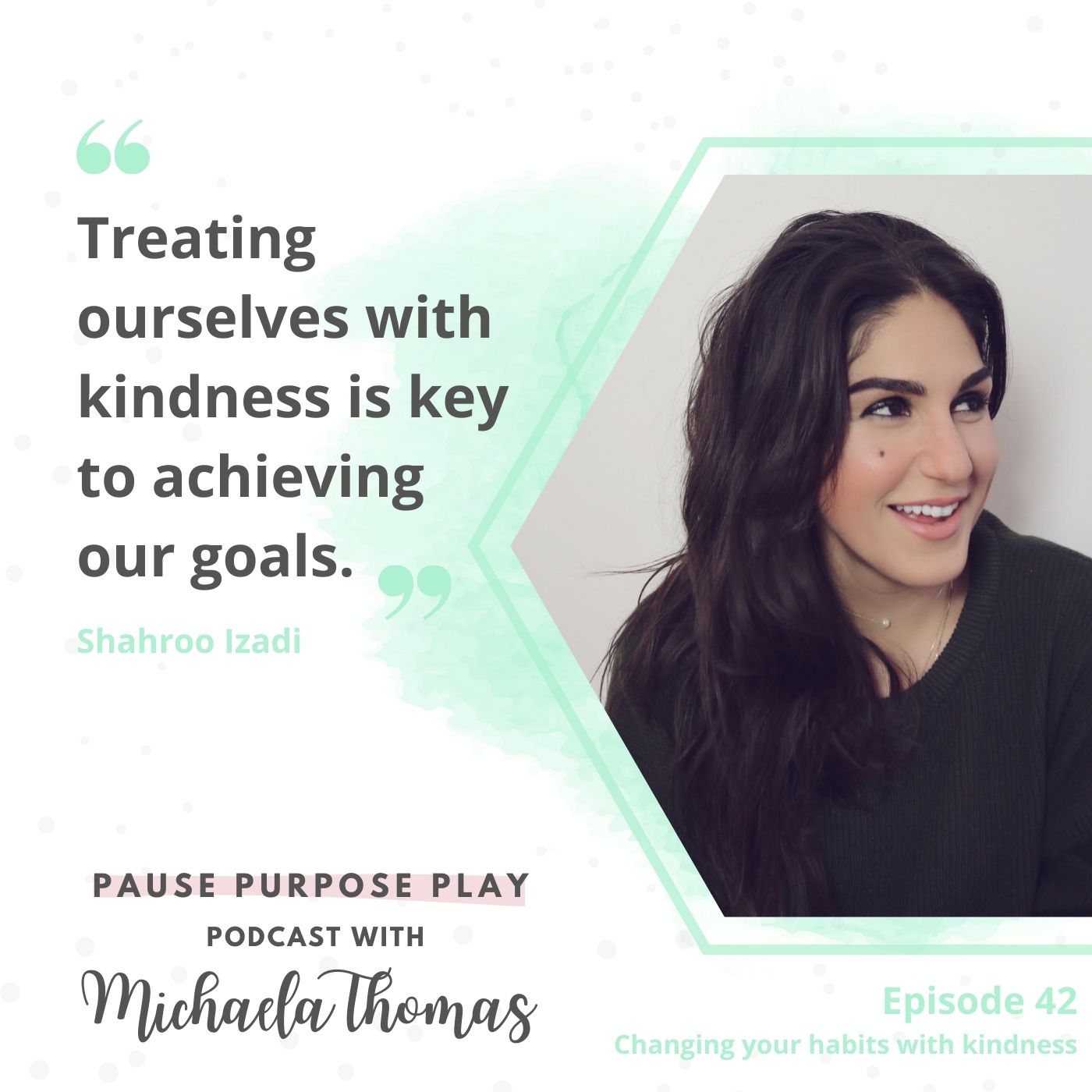 Changing your habits with kindness, with Shahroo Izadi
Mar 17th, 2021 by Michaela Thomas
Have you tried to make changes to your life? Drink less, get into shape, or other things to improve your health? How often have you berated yourself when you can't keep it up, when you fail to reach your goal?
This week, I'm speaking to Shahroo Izadi about how kindness is key to achieving our goals and changing our habits. 
Shahroo is a Behavioural Change Specialist, speaker and bestselling author. Her approach is influenced by the experience that she gained working in the addiction treatment field. She has since been dedicated to highlighting what those in long-term recovery from substance misuse can teach the general population about motivation, self-compassion and self-awareness. 
Her first book, The Kindness Method, was released in June 2018. She was named as one of Red Magazine's Smart Women of 2018 and selected for Marie Claire's 2019 verified Power with Purpose List, and in November 2019 she was given the 'Thought Leader of the Year' Award at House of Lords. Her second book, The Last Diet was published in the UK in 2019 and USA in 2020.
We talk about:
4:09 Shahroo's mission: The Kindness Method
5:59 Shahroo's weight loss journey
8:34 Accepting natural weight fluctuations
10:30 External validation from weight loss
14:20 Changing your attitude to your body
16:15 Evaluating your emotional toolkit
17:45 The diet industry
18:19 Perfectionism
21:20 Common sticking points over change
24:29 Acting as if you like yourself
26:59 Dealing with our instant gratification world
30:00 Treating change as an experiment
30:47 Creating a path of least resistance for yourself
33:00 Controlling what you can change
34:33 Considering motivation for change
36:12 Creating change in relationships
41:00 Authenticity and vulnerability as practitioners
46:22 Shahroo's take away for you
Find Shahroo at 
Website: www.shahrooizadi.com
Email: contact@shahrooizadi.co.uk
Twitter: @shahrooizadi
Instagram: @shahroo_izadi
Order my book, The Lasting Connection, here
Find me at www.thethomasconnection.co.uk
Instagram: @the_thomas_connection
Facebook: www.facebook.com/thethomasconnection
Pause Purpose Play Facebook group: www.facebook.com/groups/pausepurposeplay 
This episode was edited by Emily Crosby Media
Share